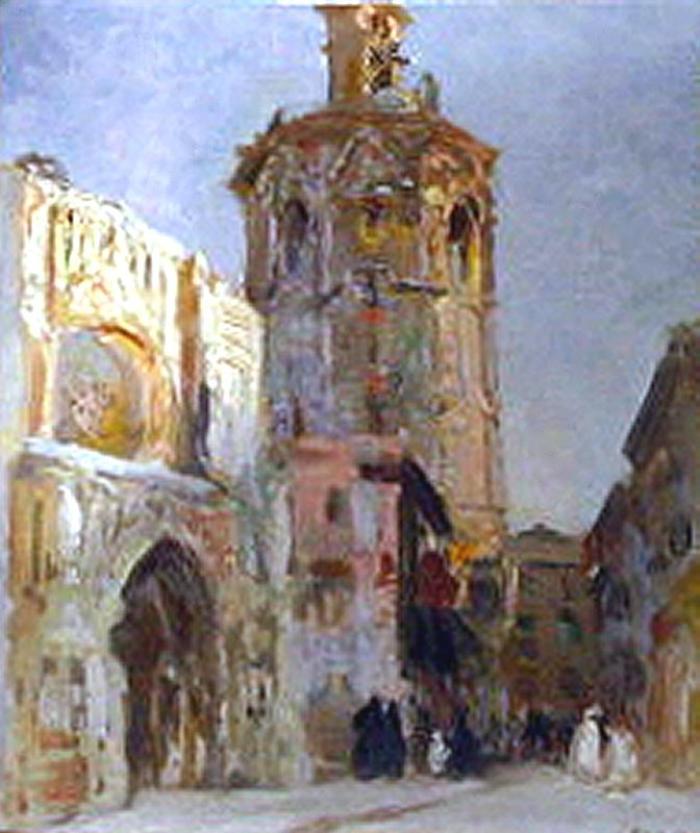 The Cathedral with Bells
Dimensions
8 1/2 in. x 6 3/4 in.
Signature
Signed/inscribed?/M. Alten/1912 lower right
Signature Details
On the panel verso in pencil? "The Cathedral with Bells/Valencia/by M. Alten"

Typed on a paper adhered to verso of the mount, "Painted by Mattheas (sic) Alten, Grand Rapids, Mich. Frame by Stanford White, with pen knife, Shot by Harry Thaw. / Bought from Pastor Harry Ironside of Moody Memorial church for the Missionary Fund."

See also three other Alten paintings of the Cathedral, each titled "Plaza de la Virgen, Valencia," (SPAR286) - (SPAR286a) - (SPAR286b).

Note: Harry Ironside (1876 - 1951) was a world-renown, Chicago-based pastor, Bible scholar and teacher.

Note: The reference to Harry Thaw alludes to the fact that Mr. Thaw shot and killed architect and designer, Stanford White June 25, 1906 apparently over jealousy in that White was said to have been involved in an affair with Thaw's wife Evelyn Nesbitt.
Provenance
Private collection
Harry A. Ironside, Moody Memorial Church, Chicago, IL, acquired before 1942