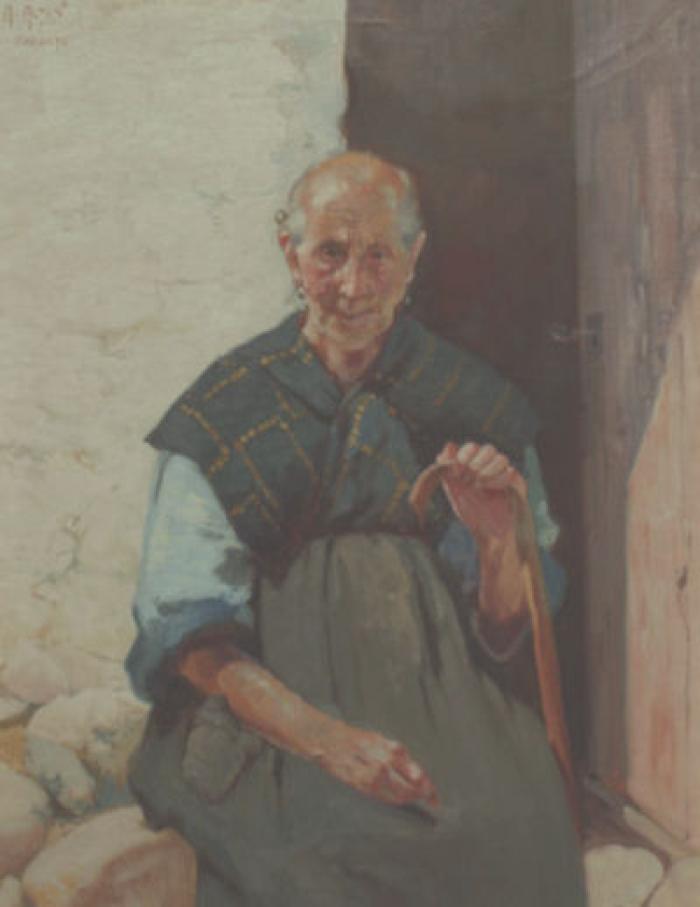 Old Woman of Sagunto
Dimensions
42 in. x 32 in.
Signature
Signed/inscribed: M. Alten/Sagunto upper left
Signature Details
Alten family lore notes that when this woman was asked to pose for the artist, she excitedly dressed in her wedding dress, and that Alten then had to very diplomatically asked her to change to her everyday clothing.
Provenance
Bergsma Gallery
Mrs. M. J. Alten collection
Exhibitions
Mathias Alten Memorial Exhibition
Mathias Alten Exhibition
Retrospective, Mathias J. Alten (1871 - 1938)
Annual Exhibition for Michigan Artists Under the Auspices of the Scarab Club, Detroit Institute of Arts, Founders Society (Second Prize)
One Hundred and Eighteenth Annual Exhibition
Bibliography
Patricia Reed, Archivist/President of the Scarab Club, 2006, and Michael Crane, Assistant Curator of American Art, Detroit Institute of Arts, Compilers, "Exhibition Records, the Detroit Museum of Art and the Detroit Institute of Arts," .
Grand Rapids Art Gallery, Catalogue of the Mathias Alten Memorial Exhibition October 4th - October 31, 1938.
C. Balleroy, "Le Salon des Independants et d'Art Center de New-York, les Expositions de Pennsylviania (sic) Academy et de Cincinnati Museum (Note: a review of the 1923 exhibition at The Pennsylvania Academy of the Fine Arts.) ," Revue du Vrai et du Beau, 10 Fevrier 1924.
Sylvia Krissoff, "Exhibit Shows Range of GR Artist Alten's Work, " The Grand Rapids Press, July 30, 1991.