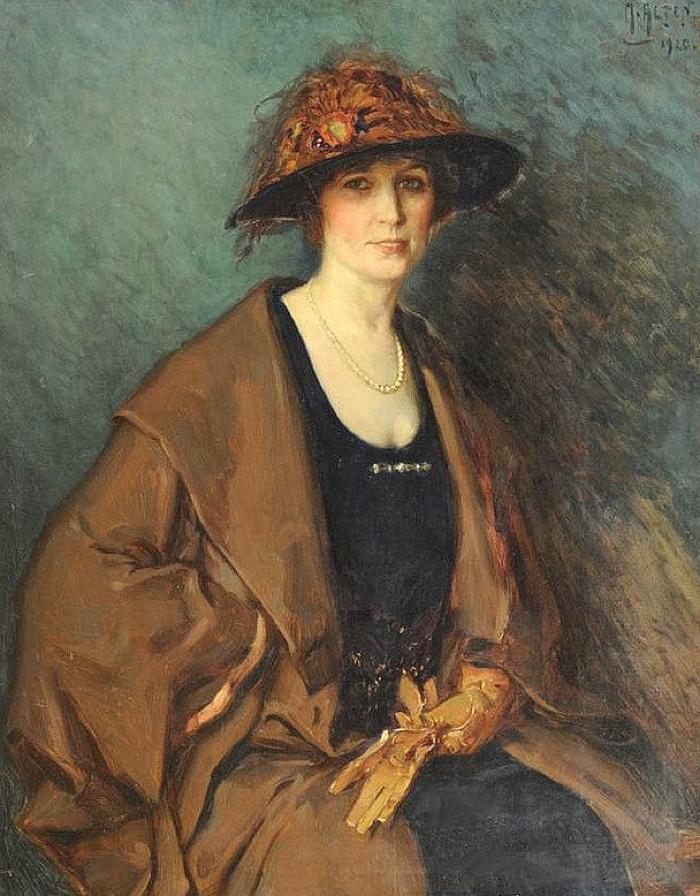 Portrait of Blanche P. Halow (Mrs. S. A. Halow)
Dimensions
36 in. x 28 in.
Signature
Signed/dated: M. Alten/1920 upper right
Signature Details
Mrs. Halow was born July 15, 1875 and died in California on Sept. 29, 1963. She was the wife of Mr. S. A. Halow (Sahlim Anthony Halow) See his portrait (MIFP679). The Halows lived in Grand Rapids in 1920, but moved to California circa 1921.

Note: This portrait of Mrs. Halow was misidentified at the Stair Galleries Auction on June 23, 2012 as being a portrait of Gertrude Atherton, apparently the well-known California writer. Mrs. Atherton, however, would have been 63 years old in 1920 when this painting was executed, Mrs. Halow, 45 years old.
Thesaurus of Geographic Names Location
Provenance
Stair Galleries Auction, Hudson, NY, June 23, 2012, Lot #520
James S. Copley Library, La Jolla, CA, after 1963?
Blanche Halow collection, Grand Rapids, MI, Pasadena, CA.
Private collection
Exhibitions
Annual Exhibition for Michigan Artists Under the Auspices of the Scarab Club
Portraits by Mathias J. Alten, Lawrence C. Earle, and Alexander Flyn
Bibliography
No author noted, "Michigan Artists at Best in Scarab Show," Detroit News, December 5, 1920.
Patricia Reed, Archivist/President of the Scarab Club, 2006, and Michael Crane, Assistant Curator of American Art, Detroit Institute of Arts, Compilers, "Exhibition Records, the Detroit Museum of Art and the Detroit Institute of Arts," .
Local Art Exhibit Proves Revelation, The Grand Rapids Press?, January 19, 1921