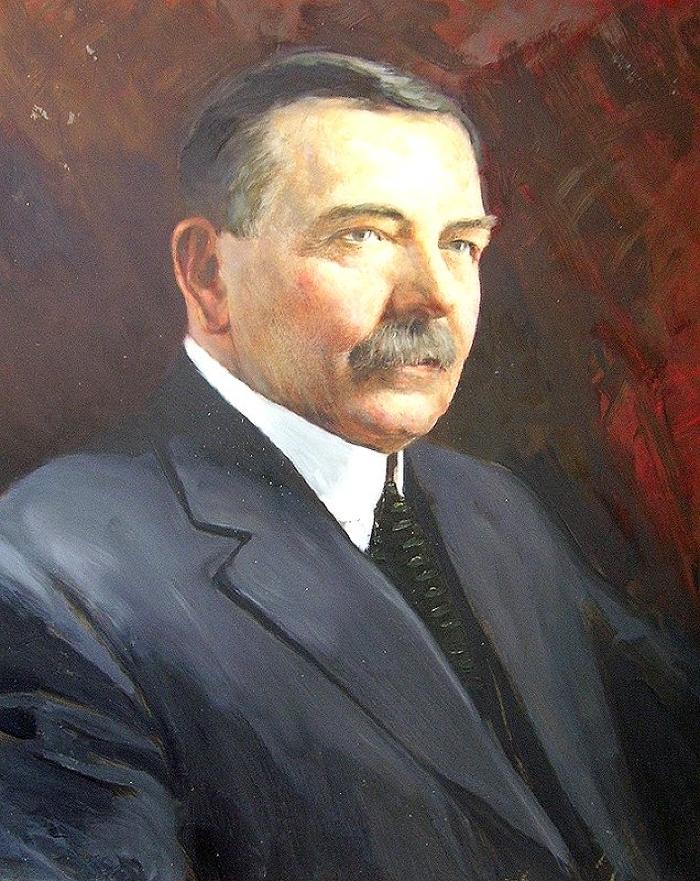 Portrait of Dorr Eugene Felt
Dimensions
21 1/2 in. x 17 5/8 in.
Signature Details
Mr. Felt, born March 18, 1862, was the president of Felt & Tarrant Mfg. Co., a business machine manufacturing company in Chicago, IL. A letter dated January 15, 1931 to Alten from Mr. A. H. Tippens, General Soliciting Agent for the firm, seems to indicate that the portrait was painted from life in that Tippens notes that, "It was most unfortunate that we had you paint the portrait of Mr. Felt when he was in such ill health. Your portrayal of him (Felt) at that time was excellent but it is not as we would like to remember him. (Felt died August 7, 1930) Would it be possible for you to change the expression on the face and the eyes to more resemble Mr. Felt, as depicted in a photograph I can send you?"

Alten's daughter Elenore must have responded because a subsequent letter, dated January 29th from Tippens noted that, "The farmer (the Felt mansion and farm was located near Holland, MI) will bring it (the portrait) to you in Grand Rapids and I will mail several photographs within the next few days. By having them in Grand Rapids, your father can work on it at his leisure. We shall be on the look out for a letter from you stating that your father has returned from Europe." Note: Alten was not in Europe at this time, but was likely in New England painting. Alten however, was not on Europe in 1930 nor 1931, but was more likely painting in the New England.

The above painting image is a copy of a circa 1920 photograph of Felt probably executed by Alten and sent to the Felt family along with the formal portrait with the changes made as requested and referenced in the letters. That fomal portrait, likely a large canvas, remains unlocated, and may have been destroyed.
Provenance
Treadway/Toomey
Felt family collection, Chicago, IL,1931
Dorr Eugene Felt collection, 1930