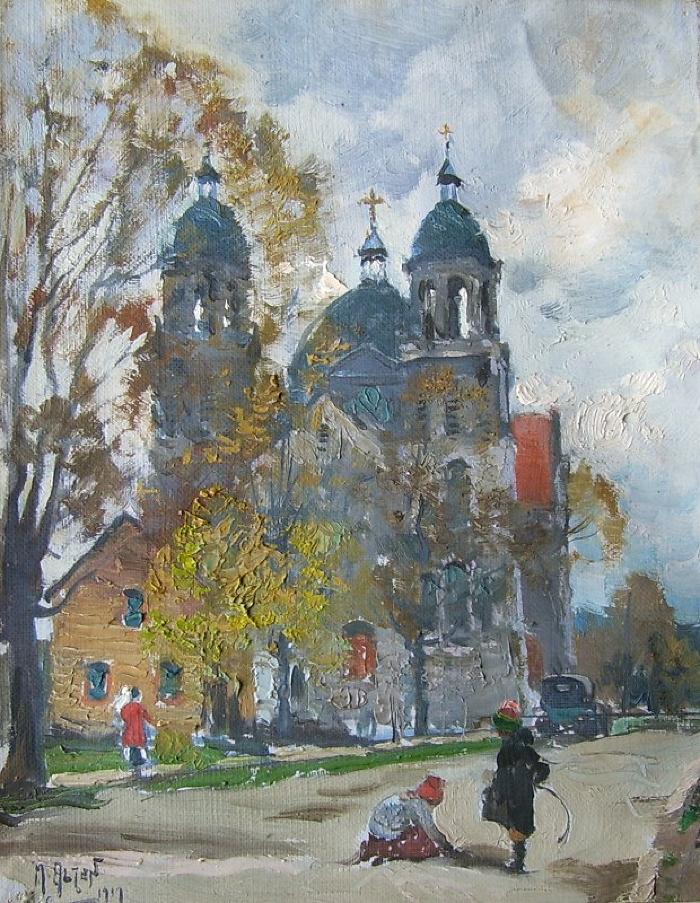 St. Adalbert Catholic Church
Dimensions
10 in. x 8 in.
Signature
Signed/dated: M. Alten/1919 lower left
Signature Details
On the mount board, "St. Adalbertus" in ink.

Typed on a note on verso, "This painting, St. Adalbert's Church on Fourth St., by Mathias Alten was a favorite possession of Susan Grant Travis. Upon her death it was presented to city club by her sister Miss Elizabeth Grant as a memorial to Mrs.Travis, a charter member of the club."


Construction of St. Adalbert Catholic Church began in 1907 and was completed in 1913. The church was raised to the status of "Basilica" of St. Adalbert on February 16, 1980.
Provenance
Women's City Club, Grand Rapids
Miss Elizabeth Grant, circa 1929
Mrs. Susan Grant Travis
Bibliography
Jung, Philip, The First 100 Years - Basilica of St. Adalbert - 1881-1981 (1981
367