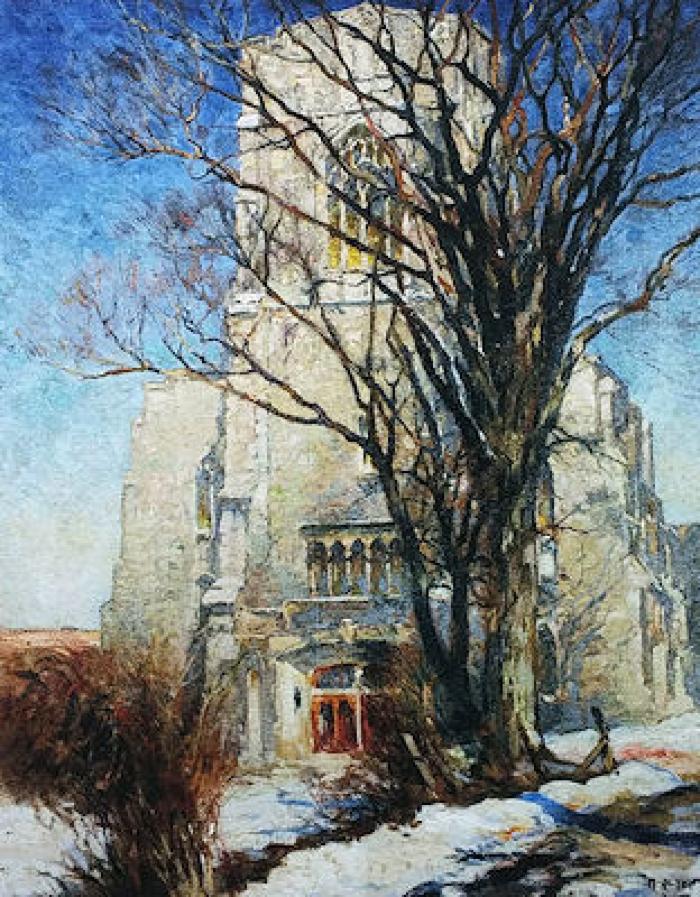 First United Methodist Church in Winter
Dimensions
32 in. x 24 in.
Signature
Signed: M. Alten lower right
Signature Details
A brass plaque mounted alongside this painting notes a title of, "First Church."
The painting was exhibited in a local Grand Rapids show at the Keeler Building in December 1924.
Provenance
First United Methodist Church, Grand Rapids, MI, presented by Lucille Wilmarth Bertsch in memory of Mr. & Mrs. L.T. Wilmarth on an unknown date.
Lucille Wilmarth Bertsch collection
Exhibitions
Mathias Alten's Grand Rapids
Bibliography
Ferris, Steven A., (Assistant Curator) with essay by Gordon Olson, Grand Rapids City Historian, Mathias Alten's Grand Rapids (Grand Rapids Art Museum, 1999).
No author noted, "Versatility Shown by Mathias J. Alten in Art Exhibit Here," The Grand Rapids Herald?, December 1924, .