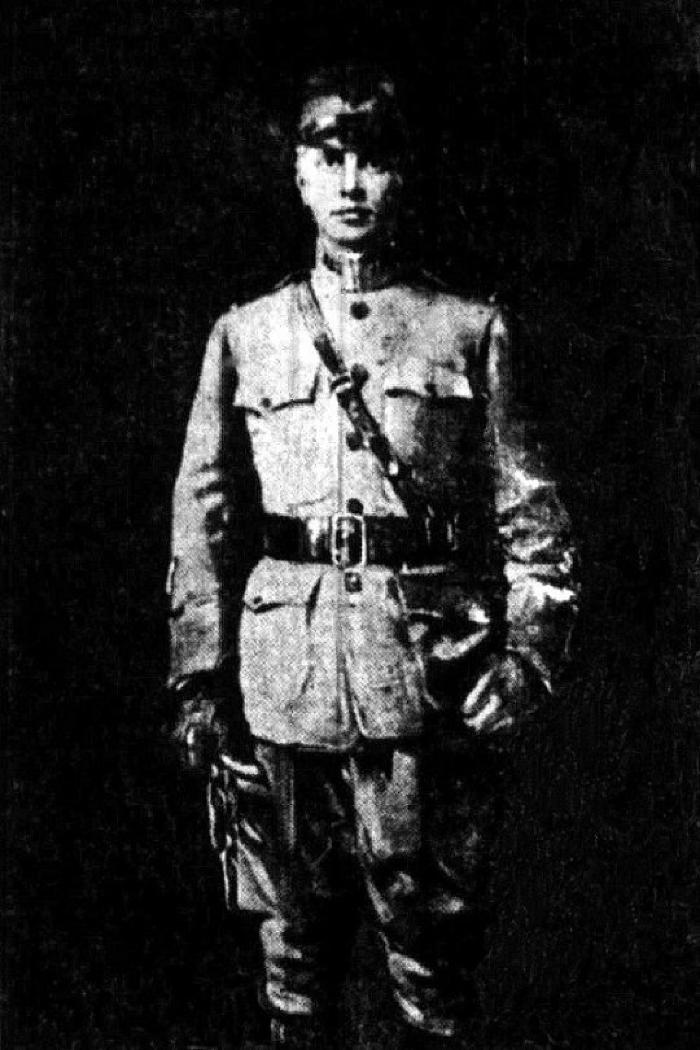 Portrait of Lieutenant George Merrick Hollister
Signature
Signature location unknown
Signature Details
World War I
2nd Lieut. 61st Inf. U.S.A.

On Feb. 25,1916, he left Harvard College to enlist in the American Field Service, and drove an ambulance at the front in France and Serbia until Apr. 23, 1917. Commissioned in the U.S. Army Feb. 25, 1918, he went again to France into the line of battle and on Oct. 12, 1918, in the Bois de Foret near Cumel, Dept. of the Meuse, was killed. His body lies in the American Cemetery at Romagnesous-Montraucon, France.

This portrait is only known through a Grand Rapids Press newspaper reproduction, November 11, 1919. Hollister, a Grand Rapids WWI soldier, was born April 23, 1896 and killed in action October 12, 1918 on the battlefields of France. When his parents sailed to France in 1919 to visit his grave, family friends in Grand Rapids commissioned Alten to posthumously paint the young man's portrait. Alten hired a model about the lieutenant's size and posed him dressed in an army officer's uniform of the type Hollister would have worn. He used photographs of Hollister to paint the hands and face. The picture was then presented as a surprise to Hollister's parents upon their return from France.
Thesaurus of Geographic Names Location
Bibliography
The Grand Rapids News, November 29, 1919
No author noted, "Mr. and Mrs. Hollister Given Portrait of Hero Son," The Grand Rapids Press, November 11, 1919, p. 16.
Subjects
Military Portrait
Michigan