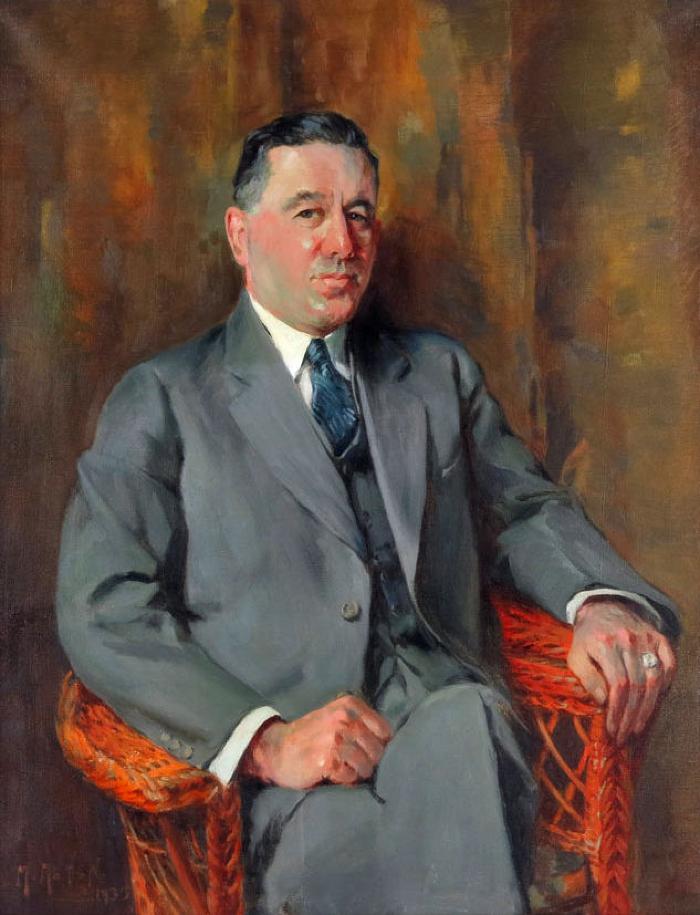 Portrait of Percy L. Churm
Dimensions
42 in. x 33 in.
CR Number
CR.MJA.MIFP1048
Signature
Signed/dated: M. Alten/1935 lower left
Signature Details
Churm was Gerald R. Ford's history teacher and track coach at South High School in Grand Rapids, Michigan. Ford once wrote, "Pop Churm was the very best. He epitomized character, compassion, leadership and patriotism. Pop was loved, respected and followed because he always stood tall and strong for what was right." (Quote courtesy of the Gerald R. Ford Presidential Museum).

The portrait was commissioned as a gift to South High School by its 1935 graduating class. A portrait of the school's principal, Arthur W. Krause, (MIFP1047) was painted as a companion painting.
Thesaurus of Geographic Names Location
Provenance
Gerald R. Ford Presidential Museum, Grand Rapids, MI, Gift of the Estate of Percy L. Churm, December 7, 1979, Accession #1982.8
Grand Rapids South High School
Percy L. Churm Estate, MI, 1967
Bibliography
No author noted, "Alten Art Exhibit Includes Two Portraits of South High Leaders," The Grand Rapids Herald, December 1935.