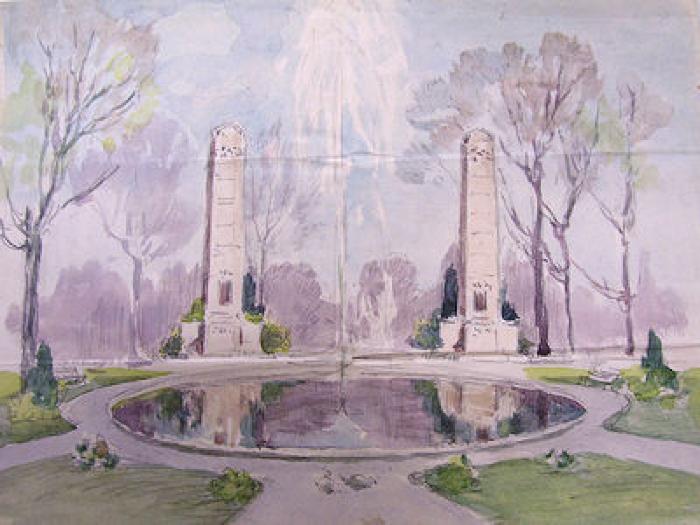 Sketch of Fulton Street Park
Dimensions
10 7/8 in. x 13 7/8 in.
CR Number
CR.MJA.MIAR2019
Signature Details
In a letter addressed to the Grand Rapids Mayor and City Commission dated May 6, 1927, Mr. Willard F. Keeney, a member of the "Art Commission" wrote regarding suggestions for improvements in Fulton Street Park. As part of proposed changes in the design of the park, two sketches by Alten were submitted for consideration. Mr. Keeney wrote in part "...we submit, for your consideration, two sketches prepared by Mr. Alten, one of the members of the Art Commission. Sketch #1 (the watercolor shown above) shows the proposed pool and its location as respects the Memorial Pillars." (Parentheses added) The Memorial Pillars were earlier design by Alten's son-in-law Ralph W. Demmon.

Sketch #2 is a pencil sketch, and as such, is not included in this catalogue. The pencil sketch, also by Alten, is a rendering of the proposed walkways extending through the park.

See further MIAR861 which is an earlier view of the park which later became known as Veterans Memorial Park.
Thesaurus of Geographic Names Location
Provenance
Grand Rapids City Archives, #41023
Grand Rapids Art Commission, Mathias J. Alten, member
Bibliography
Willard F. Kinney, Letter addressed to the Honorable Mayor and City Commission of the City of Grand Rapids, "Letter dated May 6, 1927," 2 pages.