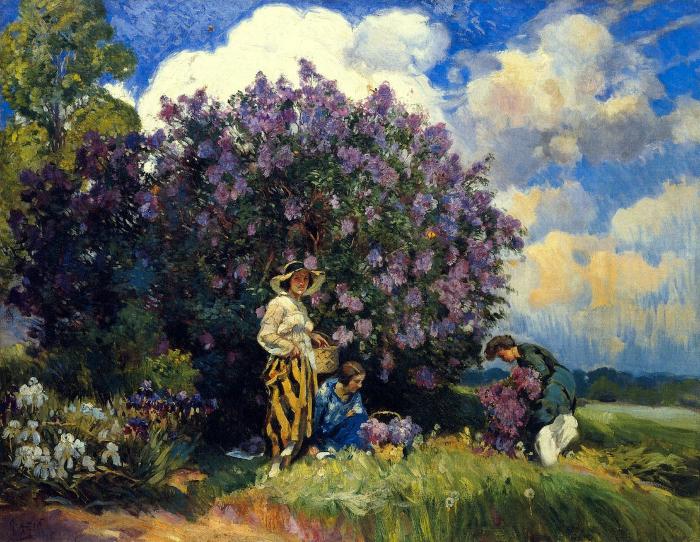 The Striped Skirt
Dimensions
36 in. x 46 in.
Signature
Signed/dated: M. Alten 1917 lower left
Signature Details
Note: this canvas was exhibited by the Grand Rapids Art Association December 6-31 1917 under the title "Gathering Lilacs,"

In the Striped Skirt composition, Alten's daughter Eleanore is wearing the striped skirt, and Camelia is seen at the far right. The middle figure is unidentified, but may be Alten's youngest daughter, Viola. This painting hung over Alten's fireplace mantel in his Fulton Street home.

See also MILF624, Gathering Lilacs, circa 1925 for similar subject matter.
Thesaurus of Geographic Names Location
Exhibitions
Mathias J. Alten: Journey of an American Painter
Mathias Alten: Michigan Impressionist, Escanaba, MI
Mathias Alten:Through the Seasons
Bibliography
Gerdts, William H., M. Elizabeth Boone, Wendy Greenhouse and James A. Straub (Chronology), Mathias J. Alten: Journey of an American Painter (The Grand Rapids Art Museum, 1998)
Gerdts, William H., "Mathias J. Alten," American Art Review, December 1998.
Grand Rapids Art Association, Catalogue of the Fifty-Third Exhibition Held at the Monument Square Bldg. (One-Man Show) December 6-31 1917.
Subjects
Landscapefigures
Michigan