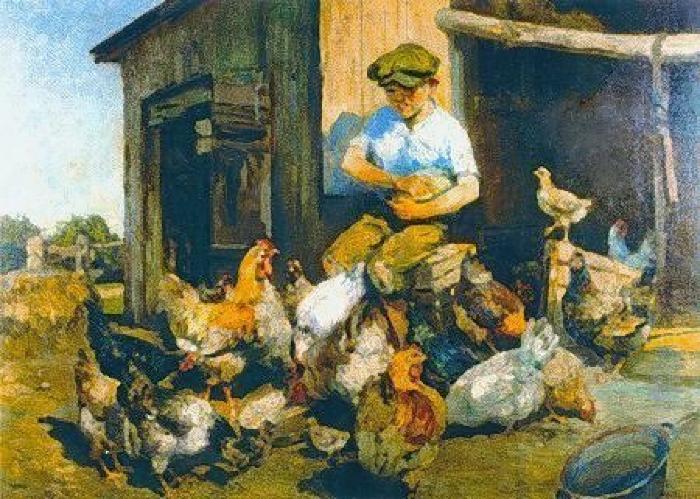 Feeding the Chickens
Dimensions
53 in. x 72 in.
Signature
Signed: M. Alten lower right
Signature Details
This picture has been alternatively titled, "Boy Feeding Chickens."

Although Alten's nephew, Leo Alten, often claimed he was the model for the boy seen in the picture, it is unlikely as Leo was born in 1907, and would thus have been a boy in his late teens when this canvas was painted.

Further speculation has been made that the boy seen in the picture has a cleft pallette because of the apparent positioning of his lips. It seems more likely however, that Alten painted the young man while "clucking" in order to call the chickens.
Provenance
Spectrum Health Systems
Dr. John Rupke, Grand Rapids, 1975
Grand Rapids Community College
The artist
Bibliography
Mathias J. Alten, , "Last Will and Testament, April 20, 1932," Wills - Liber 592, pages 430-433. Kent County Probate Court, Grand Rapids, Michigan.
No author noted, "Alten Offers New Local Art Goup ," The Grand Rapids Press, December 5, 1924, p. 29:2. "Haying Time" il.
No author noted, "Versatility Shown by Mathias J. Alten in Art Exhibit Here," The Grand Rapids Herald?, December 1924, .
Bernice Mancewicz, "Exhibit Gives Public Look at Corporation Art," The Grand Rapids Press, May 20, 1984, D9., ill.
Butterworth Hospital, "About the Cover," Butterworth Hospital News, Vol. 18, No.1, April 1976.