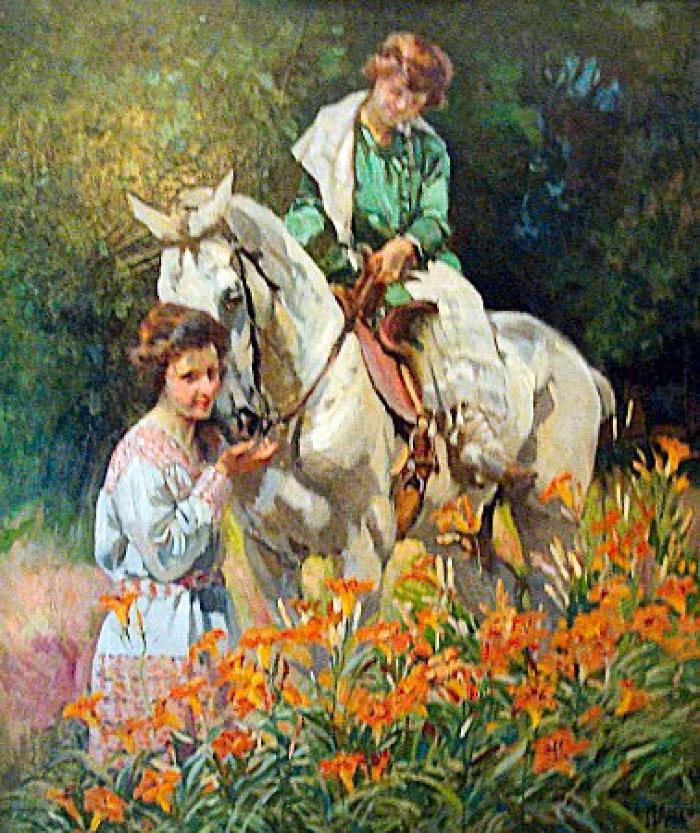 July Memories
Dimensions
50 in. x 42 in.
Signature
Signed: M. Alten lower right
Signature Details
This canvas depicts Alten's daughter Camelia, then seventeen-years-old, on horseback with her life-long friend Lucile Cusick standing nearby. The Alten family notes that while posing for the painting, the noon whistle at the nearby Michigan Lithograph Company blew, startling the horse, which then galloped down Fulton Street in Grand Rapids with Camelia hanging on, and Alten chasing behind.

Despite the Grand Rapids Herald's article dated December 16, 1917 tiled, "Alten's Painting of His Daughters" the young woman standing next to the horse in this painting is Miss Cusick, not a daughter of Alten.

Alten painted an oil study, "Portrait Study of Lucille Cusick" (MIFP1517) in preparation for this canvas.

This painting appeared in the 1986 Purdue University exhibition under the titke, "Two Girls with Horse (oil).
Thesaurus of Geographic Names Location
Provenance
Private collection
Bergsma Gallery
Descended in the family of Bertha Alten
Exhibitions
Mathias Alten Exhibition
Retrospective, Mathias J. Alten (1871 - 1938)
June Exhibition
Bibliography
Milwaukee Art Institute, Catalogue of June Exhibitions, 1918.
No author noted, "Alten's Painting of His Daughters (sic)," The Grand Rapids Herald, December 16, 1917, .
Van Eenenaam, The Muskegon Chronicle, August 8, 1991, "July Memories" is seen in the background of an image depicting 4 generations of Alten family female descendants.