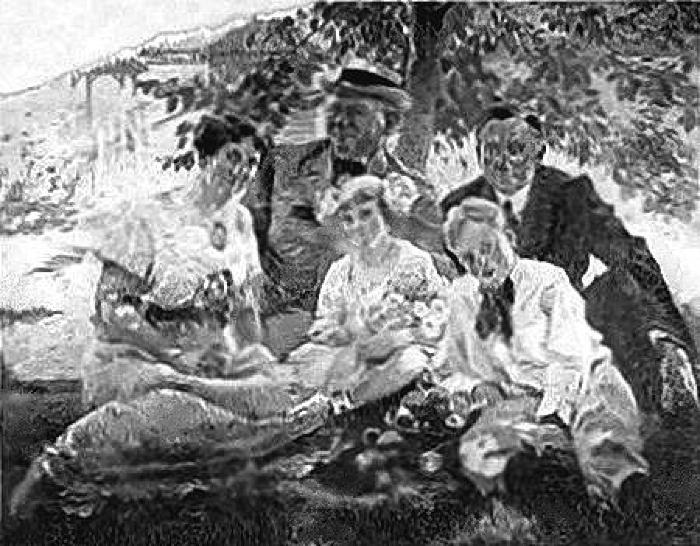 Portrait of the Henry B. Herpolsheimer Family
Dimensions
54 in. x 66 in.
Signature
Signed: M. Alten lower right
Signature Details
Painted on the occasion of the Herpolsheimer's 1913 silver wedding anniversary. The painting's image is known only through a damaged, vintage photograph and a newspaper reproduction.

The portrait, considered by Alten to that time, to be his most successful and largest, was painted at the family's Black Lake summer home. The frame was hand-carved by Alten. The composition was described in The Grand Rapids Press as having the lake "...and its opposite shore, forming a charming land and waterscape background, the picturesque boat landing giving an added decorative touch. ...the sunshine is tempered by the shade cast by the foliage of the tree, but the sunlight filters down throught the tree, falling in bright splotches of light..." The description continues, "The light blue of Mrs. Herpolsheimer's gown repeated in the ribbons and frock worn by the little daughter, strikes a dominant color note which harmonizes and reflects the light contrasting strongly with the more somber tones worn by the men."

The sitters are identified as at left, Mrs. Caroline Herpolsheimer, nee Brandt, Mr. Henry B. Herpolsheimer wearing a hat, his son, Mr. Henry W.G. Herpolsheimer, young Caroline Brandt, and Arthur Brandt.
Provenance
Location unknown
Henry B. Herpolsheimer collection
Exhibitions
Exhibited briefly and informally at the Grand Rapids Herpolsheimer's Department Store
Bibliography
Employees Witness Picture Unveiling - Hundreds of Guests See Henry B. Herpolsheimer Family Portrait Group, Grand Rapids Press, August 23, 1913, pg. 10, ill.
Hold Reception in Department Store - Portrait Group of Family, Work of Matthias (sic) Alten is Unveiled and Seen for First Time, The Grand Rapids Herald, August 24, 1913, Sunday Morning ed..