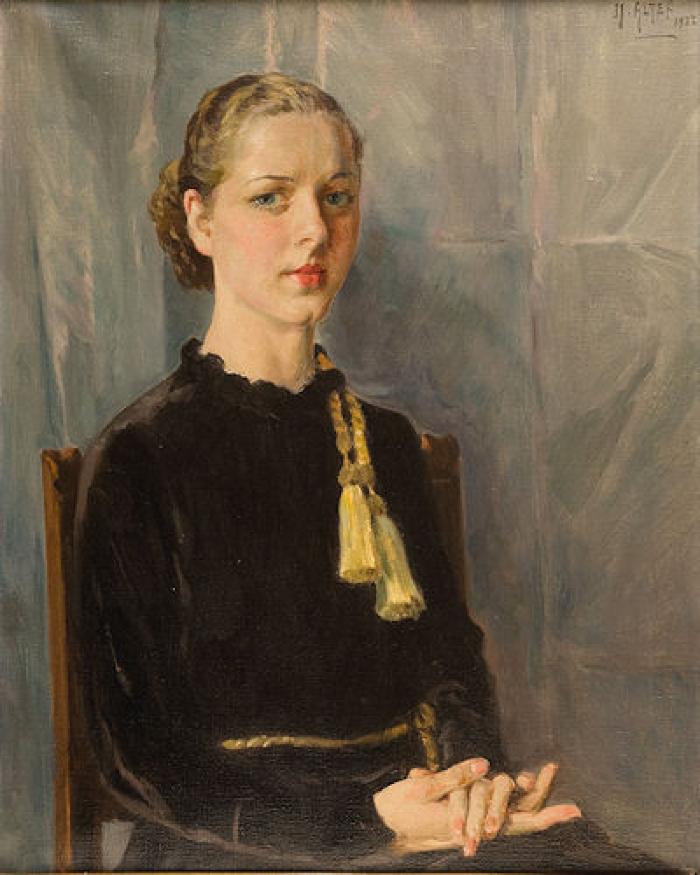 Portrait of Marian Louise Gommesen
Dimensions
26 in. x 21 in.
Signature
Signed/dated: M. Alten/1935 upper right
Signature Details
On September 7, 1932, Ms. Gommesen was awarded the title of "Miss Michigan" at the contest held at the Michigan State Fair in Detroit. Among the prizes she received was an automobile and a complete wardrobe supplied by a Detroit department store. Although newspaper accounts reported that she was about to turn nineteen years old at the time she won the contest (and contest officials believed so) she was in fact only sixteen and therefore, underage.

According to Gommesen family history, this portrait was not a commisioned piece, but rather, as the story goes, Alten approached Ms. Gommesens's parents and offered to paint her portrait gratis given the exposure the work might garner. This is entirely probable considering the young woman's stunning beauty and notoriety. Additionally, Alten had in the past painted portraits without charge when he recognized that the finished product would likely draw public attention to his work.
Provenance
Private collection
Marian Gommesen collection
Gommesen Family collection as a gift from the artist
Bibliography
Barbara Siepker, Historic Cottages of Glen Lake (: Leelanau Press, 2008), Pgs 244.
No author noted, "Grand Rapids Girl is Miss Michigan," Ludington Daily News, September 8, 1932, pg. 7.