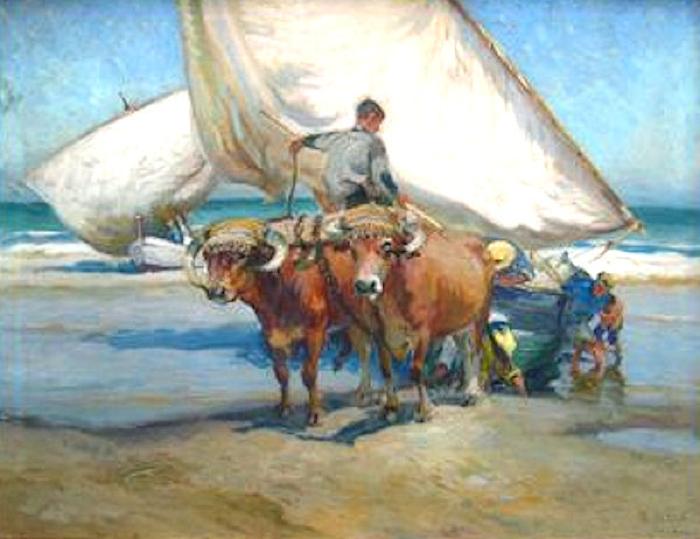 Sardine Fishers Return, Cabanal
Dimensions
28 1/4 in. x 36 1/2 in.
Signature
Signed/inscribed: M. Alten/Cabañal lower right
Signature Details
Frame bears a label from the Pennsylvania Academy of the Fine Arts/One Hundred and Eighteenth Annual Exhibition, 1923. The painting is titled titled in ink in Alten's hand, "Sardine Fishers Return/Mathias J. Alten/Grand Rapids, Mich."

Frame also bears a red and white-bordered paper label "R/1" in pencil.

On the verso of the canvas printed in marking pen? ink, "Embarcation Cabanal Espame (sic) by M. J. Alten/1922" This inscription is in an unknown hand and seems to be later than the noted exhibition label.
Provenance
Private collection
With Grand Gallery
Neva Backart collection, Atherton, CA
Raye and Neva Backart collection, early 1940s
Ed and Florence Otte collection, Grand Rapids, MI, after 1923
Exhibitions
One Hundred and Eighteenth Annual Exhibition
Bibliography
Michels, Laura, "Alten Piece for Sale at Grand Gallery," The Grand Rapids Press, October 23, 2011, Sunday ed., sec. Local Arts and Entertainment, E3.