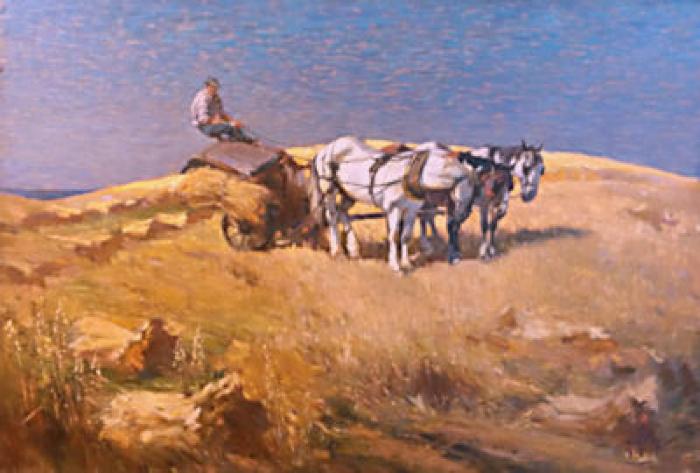 Three Horse Team
Dimensions
26 in. x 38 in.
Signature
Signed: M. Alten lower right
Signature Details
The painting's stretcher bears a red and white label with the typed inscription "Harvesting 26 x 38/ A-46"

This painting has also been known as, "Three Horse Team."

See also MIAG2202, an oil study for this painting.
Provenance
Private collection
With Perception
Anita M. Gilleo Trust
Exhibitions
Artists of Grand Rapids (1840 - 1980)
Bibliography
Sweeney, J. Gray "Mathias J. Alten (1871 -1938)," Exhibition Catalog (1979)
Milwaukee Art Institute, Catalogue of June Exhibitions, 1918.
Sweeney, J. Gray, with contributions by Sylvia Krissoff, Artists of Grand Rapids (1840 - 1980) (The Grand Rapids Art Museum and The Grand Rapids Public Museum, 1981) .
No author noted, "Artist Wins National Fame With His Nature Studies around Grand Rapids," Grand Rapids Herald, January 14, 1917.
Bernice Mancewicz, "The Alten Story: Long on Talent, Short on Recognition," The Grand Rapids Press, June 3, 1979, pg. 4-H, ill.
Smithsonian Institution Research Information System (SIRIS), "Alten, Mathias Joseph 1871-1938"