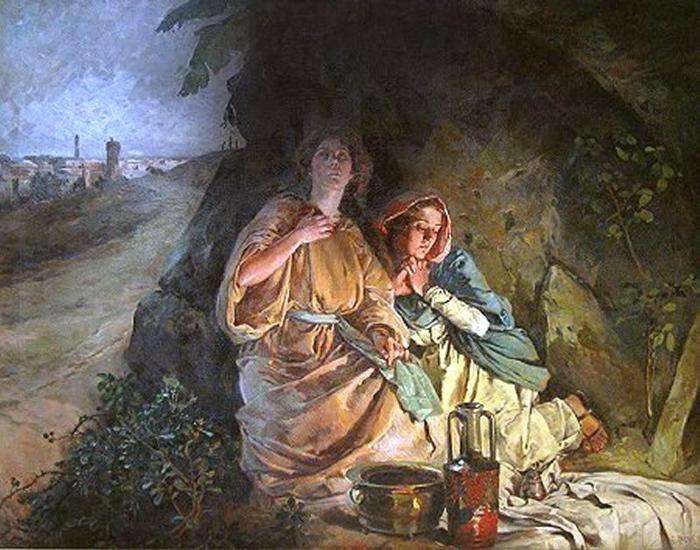 Two Marys at the Tomb
Dimensions
66 1/8 in. x 83 3/4 in.
Signature
Signed: M. Alten lower right
Signature Details
This painting was exhibited under the title, The Two Marys at the Tomb at the Younkers Brothers Store in Des Moines, Iowa in April of 1907. It was noted in the Ft. Wayne Journal-Gazette as being valued at the extrordinarily inflated price of $57,000. It was likely a commissioned work, but was in Alten's possession at the time of his death, and bequethed in his will to the Dominican Sisters at the Marywood Academy, a Catholic girls school in Grand Rapids. It stayed in the Sisters possession until the late 1990s when it was privately purchased and gifted to the Grand Rapids Art Museum.
Provenance
Grand Rapids Art Museum
Dominican Sisters, Marywood Academy, Grand Rapids, MI
The artist
Exhibitions
A Traveling Exhibition
A Travelling Exhibition, 1907
Bibliography
No author noted, "Advertisement," Fort Wayne Journal-Gazette, September 28, 1916, .
No author noted, "Last Home Exhibit Mathias Alten Is Holding Annual Display of Paintings," The Grand Rapids Press, May 19, 1910, ill.
Mathias J. Alten, , "Last Will and Testament, April 20, 1932," Wills - Liber 592, pages 430-433. Kent County Probate Court, Grand Rapids, Michigan.
No author noted - An Advertisement for the Younkers Brothers Store, "The Two Marys at the Tomb - A Painting by Mathias Alten," The Des Moines Daily News, April 9, 1907, sec. Woman's Magazine, 5?.