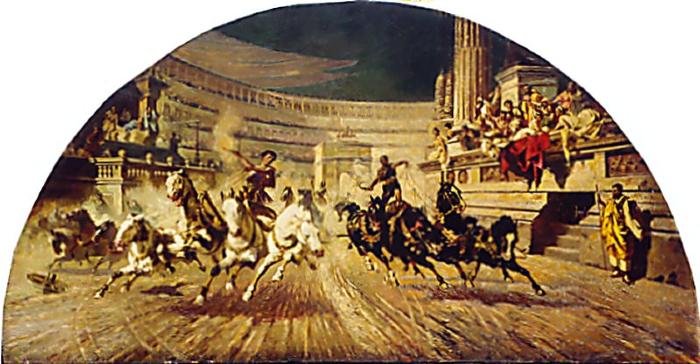 Chariot Race, Lunette Mural
Dimensions
35 in. x 67 in.
CR Number
CR.MJA.MIMU1711
Signature
Signed/dated: M. Alten/1900 lower right
Signature Details
This mural was painted after the Alexander von Wagner (1838-1919) oil, "Chariot Race" circa 1882. The lunette was commissioned along with another lunette, "Gladiators, Lunette Mural" (MIMU1712) by the Jandorf Catering Company of Grand Rapids. It hung for years behind the soda fountain in Jandorf's bakery and candy store in the city. "Chariot Race" is pictured in situ in the Mapes and Travis publication, "Pictorial History of Grand Rapids" noted below.

The identically-sized murals were likely commissioned as a pair.
Thesaurus of Geographic Names Location
Provenance
Private collection
Jandorf Catering Company, Grand Rapids, circa 1900
Vander Kamps Antiques, Grand Rapids, circa 1970
Bibliography
Lynn G. Mapes and Anthony Travis, page 30, Pictorial History of Grand Rapids (1976
182