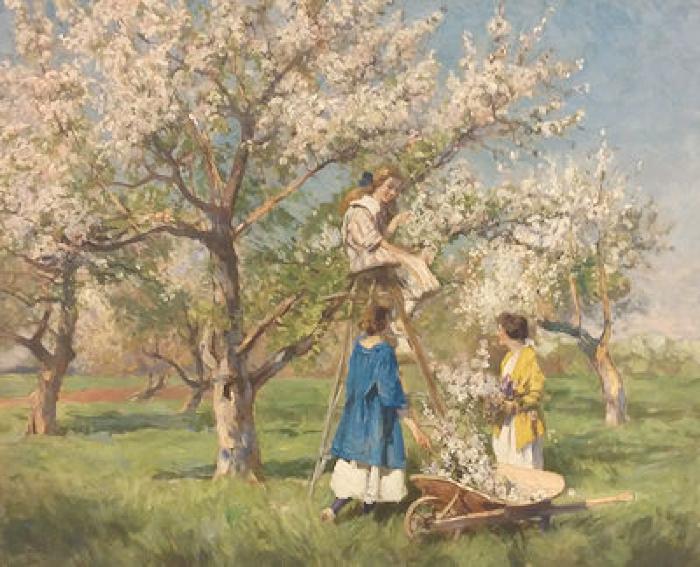 Three Sisters in an Orchard
Dimensions
27 in. x 33 in.
Signature
Signed/dated: M. Alten/1919 lower left
Signature Details
Alten's three daughters are depicted in this painting: Eleanore in a blue smock, Camelia in yellow, and Viola on the step-ladder.

Alternatively titled, "Three Girls in an Orchard."
Provenance
Private collection
Bergsma Gallery
Exhibitions
Mathias Alten Exhibition
Flowers in Art
A Traveling Exhibition of Paintings of Michigan Themes by Michigan Artists in Celebration of the State's Sesquicentennial
Retrospective, Mathias J. Alten (1871 - 1938)
Mathias Alten:Through the Seasons
Bibliography
Omoto, Sadayoshi and Eldon Van Liere, The Michigan Experience (Exhibition catalog) (1986, East Lansing, MI: Board of Trustees of Michigan State University) .
Sylvia Krissoff, "Exhibit Shows Range of GR Artist Alten's Work, " The Grand Rapids Press, July 30, 1991.
Smithsonian Institution Research Information System (SIRIS), "Alten, Mathias Joseph 1871-1938"
Krasl Art Center," Flowers in Art" (St. Joseph, MI,, 1990), 32 pgs, il
Subjects
Landscapefigures
Michigan