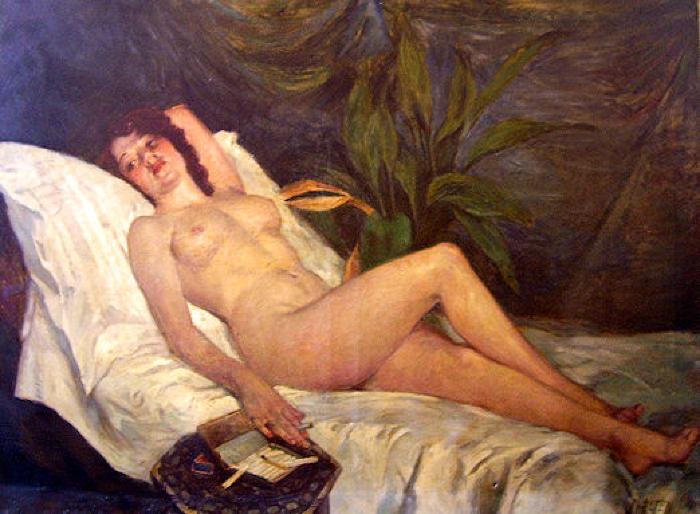 Reclining Nude
Dimensions
42 in. x 56 in.
Signature
Signed: M. Alten lower right
Signature Details
The model for this painting is the same as seen in "Nude with Plate of Fruit," MINU1403," Nude, Morning," MINU605, and "Model," MIFI1829.

Although Alten clearly titled the canvas "Reclining Nude," it was apparently re-named "Nude in Repose" for the DIA exhibition.

Bears a printed label on the stretcher verso from the Detroit Institute of Arts, Detroit, Michigan/Annual Exhibition for Michigan Artists. The label notes a title written in cursive as "Reclining Nude" by M. Alten". Also on the stretcher, inscribed in cursive in pencil, two red & white labels. The first noting "20 E./42 x 56/Reclining Nude." The second, in pencil also, "42 x 56." (partially torn). Written on the stretcher in pencil "BX 49-1" (possibly an acquistion number for the Buhl collection).
Provenance
Private collection
Buhl Building (Jerry Luptak owner) collection, Detroit, MI reportedly for decades. The painted likely hung in either or both the London Chop House or the Savoyard Club restaurants in the Buhl Building in Detroit.
Perception Gallery
Exhibitions
Annual Exhibition For Michigan Artists
Bibliography
Detroit Institute of Arts, Catalogue of the Annual Exhibition For Michigan Artists January 5th to January 28th 1934.